About This Game
CINEVEO – Virtual Reality Cinema
is a popular VR Cinema app for the Oculus Rift DK2 and lets users simulate their own fully functional movie theater in virtual reality, with an unprecedented level of detail and sense of immersion. Grab some popcorn, it's movie time!
CINEVEO gives users the choice to watch their own 2D &amp 3D video content (AVI, MP4, MOV, WMV &amp MKV), on a huge silver screen, in six different ultra-detailed virtual reality cinema themes, such as a 1960s Drive-In Theater, a 4D Movie Theater, a Space Station, The Ocean, a Haunted Valley and The Void.
&quotCINEVEO is not just a game, it's a mind-blowing voyage into a new realm of movie entertainment and forever changes the way you will want to watch movies.&quot
CINEVEO uses state-of-the-art virtual reality technology and extends the user's movie watching experience well beyond the edges of the silver screen. It makes traditional 2D screen viewing appear truly archaic. Imagine watching the movie &quotGravity 3D&quot, on-board a space station orbiting earth, or a scary movie like the &quotThe Ring&quot in a dark valley, haunted by the ghost of a little girl, which comes to visit you during the movie. Heart attack guaranteed!
To immerse the user even further into virtual reality, CINEVEO developed an innovative way to control all interfaces &quothands-free&quot. In other words, the user can control CINEVEO without having to touch the mouse or keyboard. But that's not all! CINEVEO's key features also include full movie subtitle support, online multi-player audience and users can even use their webcam as a window to the outside world.
CINEVEO FEATURES
Six Cinemas - 60s Drive-In, 4D Movie Theater, Space Station, Ocean, Haunted Valley &amp The Void.

Plays 2D &amp 3D Videos - Plays all video formats smoothly (AVI, MP4, MOV, WMV &amp MKV).

Movie Subtitle Support - Watch movies with subtitles in any language.

Watch 3D Movies - Plays 3D videos in SBS and Over / Under with a superb 3D effect.

CINEVEO's ULTRA 3D Mode™ - Makes you feel as if you are literally inside the movie.

CINEVEO's Stereo PFOV Lighting™ - Extends the movie beyond the edges of the cinema screen.

Advanced Dynamic Lighting - Dynamic casting of light, color, reflections, shapes and shadows.

Customizable Cinema Screen - You can change the size and the shape (curved or flat screen).

Hands-Free Interface Controls - Control the app without keyboard or mouse.

Multiplayer Audience - Sit alone in the cinema or with a live audience made up of real people.

Webcam Video - Use your webcam in VR to see what is going on around you in the real world.
--- ---- ---- ---- ---- ---- ---- ---- ---- ---- ---- ---- ---- ---- ----
VISIT THE CINEVEO WEBSITE @ http://www.mindprobelabs.com
--- ---- ---- ---- ---- ---- ---- ---- ---- ---- ---- ---- ---- ---- ----
4D MOVIE THEATER V3.0
SPECIAL FEATURESAdvanced dynamic lighting | CINEVEO's Stereo PFOV lighting™ | Multiplayer audience
Watch your 2D and 3D videos in the most advanced VR simulation of a movie theater ever created for the Oculus Rift and Android Cardboard. Feel total immersion and presence in a movie theater. Experience movies in a new way with next-generation VR Cinema technology, such as CINEVEO's
Stereo PFOV lighting™
, which extends the movie beyond the edges of the cinema screen and CINEVEO's
ULTRA - 3D™
Mode, which literally makes you feel as if you are inside the movie. The 4D Movie Theater features a multiplayer live audience, CINEVEO's innovative &quothands-free&quot controls, a webcam window to the outside world and much more.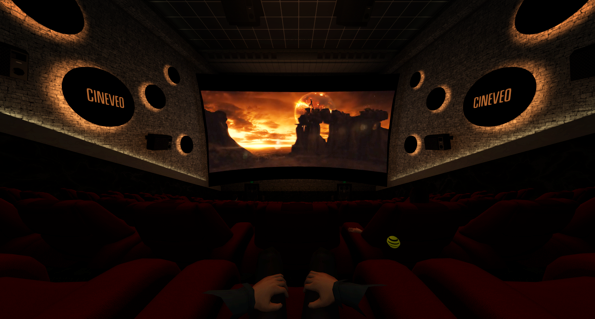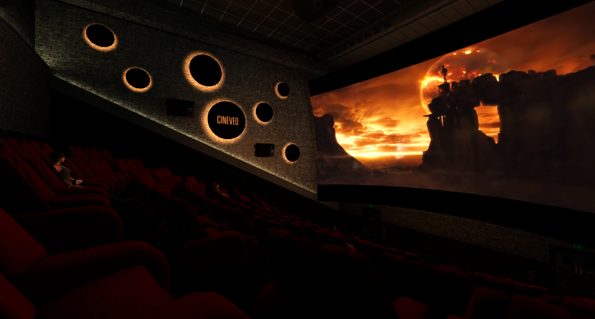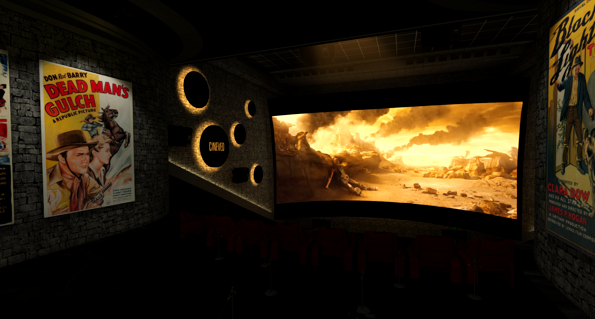 1960s DRIVE-IN MOVIE THEATER
SPECIAL FEATURESUltra-detailed 1960s drive-in movie theater setting | Sit in a 1958 Buick convertible | Air traffic and animated birds | Vertigo effect
Inspired by the 1960's drive-in cinemas that were all the rage throughout the United States, CINEVEO's 60s Drive-in Movie Theater theme is the most detailed and immersive VR cinema environment ever created for the Oculus Rift. You get to sit in a virtual 1958 Buick convertible, with a fully modeled interior and exterior. The modelling of the Buick is amazingly detailed with an accurate sense of scale, giving the car a realistic feel and making the cinema screen look massive. Both head and positional-tracking are used to let you lean around the car for a closer look at its detailing. Look behind and you will spot a detailed road-side diner with restroom building, projector tower, car speakers and neon bilboard. The drive-in theater is located on a vast hill above a virtual Los Angeles cityscape, complete with animated birds and planes. Watch a movie for long enough and a giant passenger plane will also roar overhead.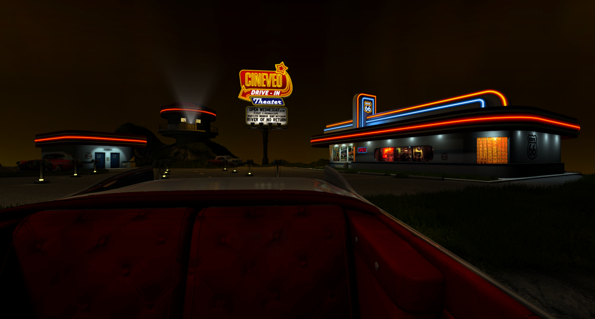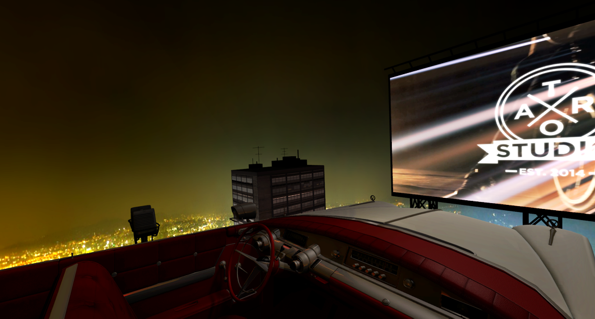 SPACE STATION
SPECIAL FEATURESWatch movies in outer space | Sit outside a space station orbiting earth | NPC audience
Watch your 2D &amp 3D videos on a space station orbiting earth and observe how the universe slowly rotates around you. Feel what it's like to be an astronaut aboard the &quotEvent Horizon&quot space station and enjoy a good movie on the shielded leisure platform outside sector 17.
THE OCEAN
SPECIAL FEATURESUltra-realistic ocean environment with animated birds, ships and a lighthouse
Watch your 2D &amp 3D videos while gently drifting on the ocean in a little wooden rowboat. The Ocean theme features an ultra-realistic and incredibly immersive environment that feels alive and natural. This cinema theme includes a photo-realistic lighthouse, ships, as well as flocks of birds flying around. Your rowboat dances softly with the waves and the reflection of the cinema screen shimmers on the surface of the ocean. When you pause the movie you are watching, you will hear the sound of the waves, the seagulls singing and ships blowing their signal horns in the distance.

THE HAUNTED VALLEY
SPECIAL FEATURESThe ghost of little Lucy roams through the haunted valley
The Haunted Valley theme features an eery environment that will give you the shivers. It's great for watching horror movies. This cinema theme is haunted by little Lucy, the ghost of a 12 year old girl who disappeared in 1894. Lucy does not like it very much when strangers are around. Be prepared, as she will not hesitate to give you a scare once in a while. You can spot Lucy in four locations at random times if you keep your eyes peeled.
Are you ready for little Lucy?

THE VOID V2.0
SPECIAL FEATURESJust the screen and you in empty space | CINEVEO's ULTRA - 3D™ Mode
The Void features a distraction free environment in pitch black darkness. The Void v2.0 is the only cinema theme that currently supports viewing 3D movies in
CINEVEO's ULTRA - 3D™ Mode
.
INNOVATIVE HANDS-FREE INTERFACES
Control all essential functionalites of CINEVEO without having to touch your keyboard or mouse. Select video files to play, pause a video, change the volume, etc. using just the Rift and head movements.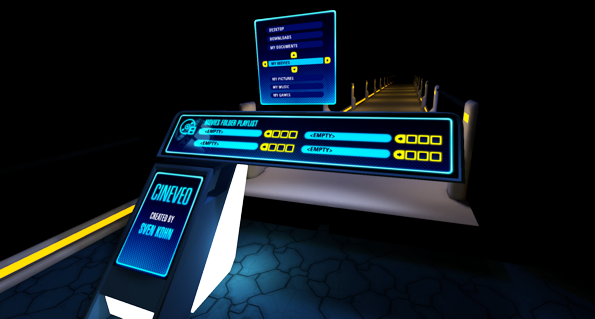 MOVIE SUBTITLE SUPPORT
CINEVEO can load and display external movie subtitle files (SRT format). All languages are supported Spanish, Chinese, Russian, etc.
USE A WEBCAM AS WINDOW TO THE REAL WORLD
Connect a webcam and CINEVEO will show a live video feed on a virtual monitor. You can see what is going on around you in the real world, while you are watching a movie.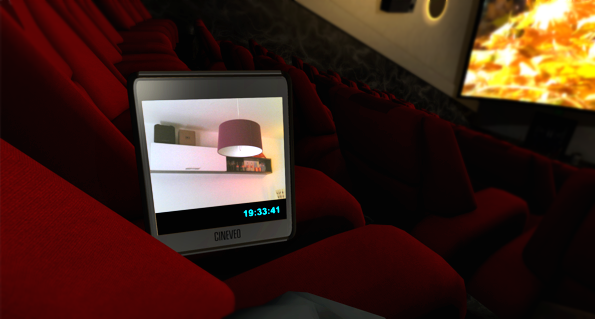 WATCH ALONE OR WITH A MULTIPLAYER AUDIENCE
Choose to sit alone in the movie theater or with a multiplayer audience made up of real CINEVEO users. You can even see the head movements of each audience member in real-time.
--- ---- ---- ---- ---- ---- ---- ---- ---- ---- ---- ---- ---- ---- ----
VISIT THE CINEVEO WEBSITE @ http://www.mindprobelabs.com
--- ---- ---- ---- ---- ---- ---- ---- ---- ---- ---- ---- ---- ---- ----
System Requirements
Minimum:
OS: Windows 7, 8 or 10

Processor: 2 Ghz or faster processor

Memory: 8 GB RAM

Graphics: 2 GB VRAM

DirectX: Version 11

Storage: 3 GB available space

Sound Card: Any

Additional Notes: Oculus Runtime v0.8.0.0 BETA
2015 Mindprobe Web-Innovations S.L.